One of our Twitter followers asked this: @DickAllen_15 What's your favorite Willie Mays story that you can share on Twitter?
Tried to do it with 140 characters, but really couldn't.
Willie Mays was a GREAT defensive outfielder. Probably the best ever. One day in San Francisco I convinced him to let me try out his glove. He agreed, laughing that "he would do just about anything to help me out there".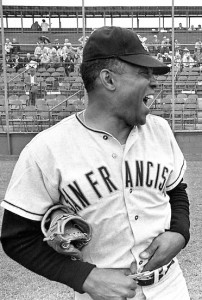 Playing outfield at Candlestick was always an adventure. As you might expect… I dropped a fly ball and got charged with an error.
When I tried to toss the glove back to Willie, he jumped out of the way like I was throwing a live hand grenade at him. He starting howling (and laughing)
"Keep it. Don't put that thing anywhere near me. You taught it all kinds of bad habits and that thing is ruined forever"
Never a dull moment with Buck.
Great player.
Greater friend.