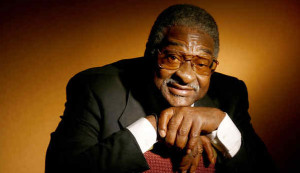 As a young kid growing up in Wampum, PA, 30 miles northeast of Pittsburgh, Dick Allen used to hit stones with a broomstick all the time, pretending he was playing for the Dodgers. "Imaginary baseball. It's the purist version of the game," he said in his book, Crash. His mother, Era, a deeply religious woman, believed Dick was born to play baseball. Mom was right.
As a teenage high school athlete, Allen was a starter on the Wampum basketball team that reached the state championship game three consecutive years. Wampum won during his a sophomore and senior years.
But, his ability to hit a baseball overshadowed his hoop skills. Baseball scouts began following Dick as a junior. Scouts in those days doubled as salesmen. Era Allen served as her son's negotiator. She was most comfortable with a 66-year-old Phillies scout, John Ogden. Upon graduating from school in 1960, Allen signed a pro baseball contract that included a $60,000 bonus.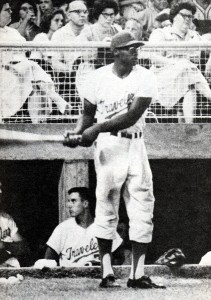 From the state basketball stage, he found himself on another stage three years later, the first black baseball player ever to play in the state of Arkansas, a frightening experience for a 21-year-old. He got through difficult times by repeating Bible verses his mom had taught him. Despite the distractions, the Little Rock leftfielder led the league in triples (12), homers (33), RBI (97), and total bases (299).
A year later (1964) in spring training, he found himself on a new stage, the starting third baseman in the big leagues for the Phillies, a position he last played in high school.
Swinging a 42-ounce bat, Allen played every game, hit .313 and set club rookie records with 125 runs, 201 hits, 29 homers and 352 total bases. Toss in 38 doubles, 13 triples and 91 RBI. He led the league in runs, triples and total bases. He was named the NL's Rookie of the Year.
Allen was a gifted athlete, strong and quick. His instinct on how to play the game was exceptional. And, he was driven to win. When it was his turn to hit, you didn't leave your seat or the TV to get a beer. His titanic home runs at Connie Mack Stadium are legendary. One went over the Coca-Cola sign atop the left field roof and traveled an estimated 529 feet. From 1964 through 1967, he averaged double figures in doubles, triples and home runs. His four-year totals: 125 doubles, 47 triples, and 101 homers.
Teammate Bobby Wine said when Allen hit the ball, "It cracked. He whipped that heavy bat like it was a toothpick." Catcher Tim McCarver, who played against and with Allen said, "When Dick swung the bat, it made a whistling sound. Only Hank Aaron and Billy Williams made the same sound." Tony Taylor roomed with Allen. "He was a tremendous teammate who played hard every game. When he crossed the white lines, all he wanted to do win."
Yet, his Phillies years were sprinkled with controversy. He became a target of the boo birds and wanted out of Philadelphia. Allen once admitted, "I always was rebellious. I liked doing things my own way."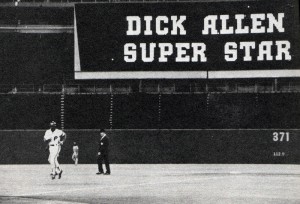 His career took him to St. Louis where he played one season (1970) for the Cardinals, on to the Los Angeles Dodgers for one season and then to the Chicago White Sox in 1972 where he won the AL MVP Award. Looking for a veteran bat to ease the load for Mike Schmidt and Greg Luzinski in the middle of the order, GM Paul Owens brought Allen back to Philadelphia. In his May 7, 1975 return, he singled in his first at-bat. Once booed endlessly, Veterans Stadium fans gave him a standing ovation for the hit, the first of several ovations that night. Philadelphia had welcomed Allen home.
After two seasons with the Phillies, Allen finished his 15-year-career with the Oakland A's in 1977. He final numbers: .292 average, 1,099 runs, 1,119 RBI, 320 doubles, 79 triples, and 351 home runs. Not bad for someone who once played imaginary baseball.
Via the Philadelphia Sports Hall of Fame