Today is the 101st anniversary of Monte Irvin's birth. Born on February 25, 1919, in Haleburg, Alabama… Monte was still a young boy when his family moved to Orange, New Jersey. Monte was a great high school athlete, earning 16 varsity letters and was recognized all-state in four sports (football, basketball, track, and baseball). He was offered a football scholarship to the University of Michigan, but he had to turn it down because he did not have enough money to move to Ann Arbor. Instead, he spent the next two years at Lincoln University, again play all four sports. Monte left college to become a professional baseball player with the Newark Eagles in the Negro Leagues in 1939.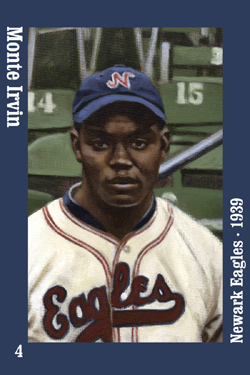 Monte wasted no time establishing his dominance in the Negro Leagues. He was one of the rare five-tool players, able to run, throw, field, hit, and hit for power exceptionally well. He was widely considered the game's greatest all-around star. Monte had all-star seasons in the outfield as well as at shortstop and third base.
In 1940, Monte batted .422. He followed up that amazing season with an MVP season in 1941, hitting .386 and belting a league-leading 41 home runs. Monte continued his success as MVP in the Winter Leagues in Cuba. In 1942, he left the Eagles to join the Mexican League. While there, he dominated each of the Triple Crown categories and was also named MVP.
Following the 1942 Mexican League season, Irvin was drafted into military service. Joining the Army's GS Engineers, 1313th Battalion, for the next three years he was deployed to England, France and Belgium. He served in the Battle of the Bulge. Irvin said that while many black soldiers had been treated badly by their white counterparts, the situation improved as many white soldiers realized the contradiction in an oppressed group being sent to Europe to fight for the oppressed people in other countries. At the end of the war, he returned to the Negro Leagues and continued to stand out.
Irvin earned MVP honors in the 1945–46 Puerto Rican Winter League. He returned to the Newark Eagles in 1946 to lead his team to a league pennant. Irvin won his second batting championship, hitting .401, and was instrumental in beating the Kansas City Monarchs in a seven-game Negro League World Series, batting .462 with three home runs. He was a five-time Negro League All-Star.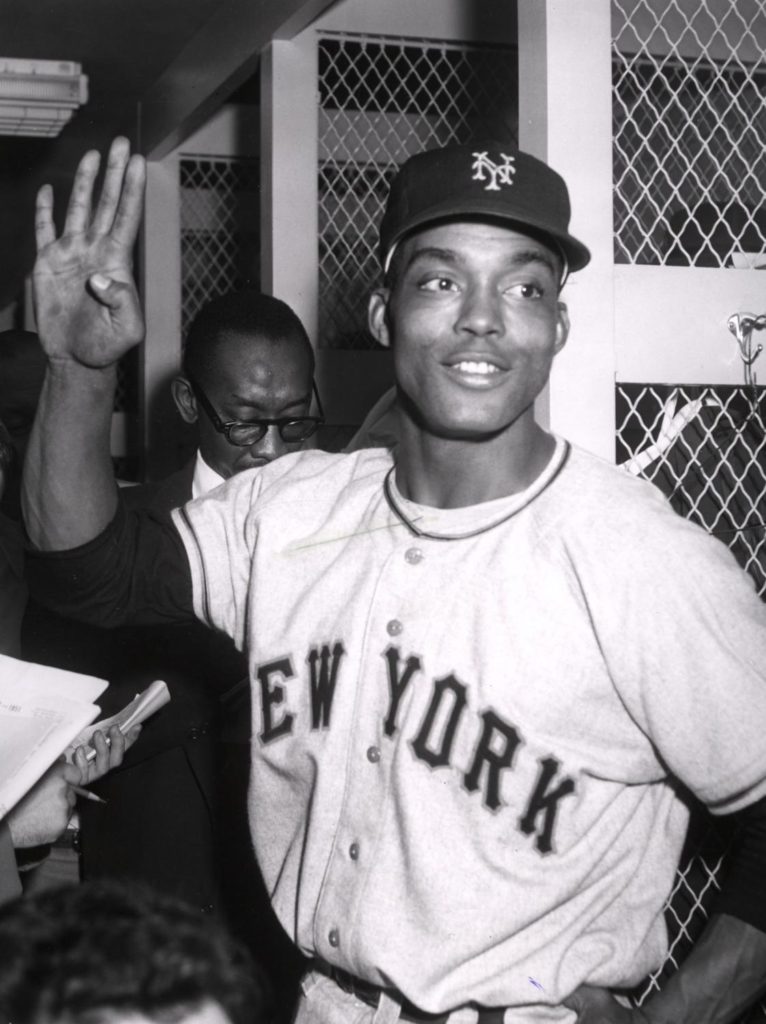 As Major League teams began to explore breaking the color barrier, Monte was one of the players to attract the attention of Major League scouts. In 1947, Jackie Robinson became the first African-American to break the color barrier. Two years later, Monte and Hank Thompson became the first black players to suit up for the New York Giants.
In the major leagues, Monte developed a reputation as a strong clutch hitter, leading the National League in runs batted in. In 1951, he led the Giants miracle comeback from 13 and a half games back over the Brooklyn Dodgers, batting .365 down the stretch. Although the Giants lost to the Yankees in the World Series, Monte posted incredible numbers. He batted .458 and became the first player in 38 years to steal home during a World Series game.
During the 1951 season, Giants manager Leo Durocher asked Irvin to serve as a mentor for rookie Willie Mays, who had been called up to the team in May. Mays later said, "In my time, when I was coming up, you had to have some kind of guidance. And Monte was like my brother … I couldn't go anywhere without him, especially on the road … It was just a treat to be around him. I didn't understand life in New York until I met Monte. He knew everything about what was going on and he protected me dearly."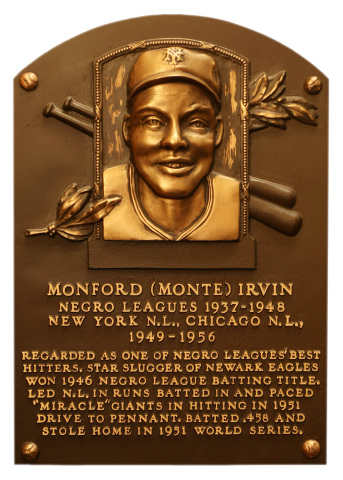 Ankle trouble sidelined Monte for part of the 1952 season and would plague him for the rest of his career. Nevertheless, Monte continued to post solid numbers and won the World Series with the Giants in 1954. He played his final season with the Chicago Cubs in 1956. In his major league career, Irvin batted .293, with 99 home runs, 443 RBI, 366 runs scored, 731 hits, 97 doubles, 31 triples, and 28 stolen bases, with 351 walks for a .383 on-base percentage, and 1187 total bases for a .475 slugging average in 764 games played.
After retiring, Monte worked as a scout for the Mets and later in Major League Baseball's Commissioner's office as assistant director of public relations and promotions. He was elected to the Baseball Hall of Fame in 1973. In 1974 Commissioner Bowie Kuhn sent Irvin to represent him for Hank Aaron's 715th home run in Atlanta. Irvin stepped down from his role with the commissioner when Kuhn announced his retirement in 1984. Monte wrote his autobiography, Nice Guys Finish First in 1996.
On June 26, 2010, the San Francisco Giants officially retired his number 20 uniform.
Monte Irvin died of natural causes on January 11, 2016 in Houston. He was 96 years old. At the time of his death, Irvin was the oldest living former Negro Leagues player.