OTD: John Kennedy Arrives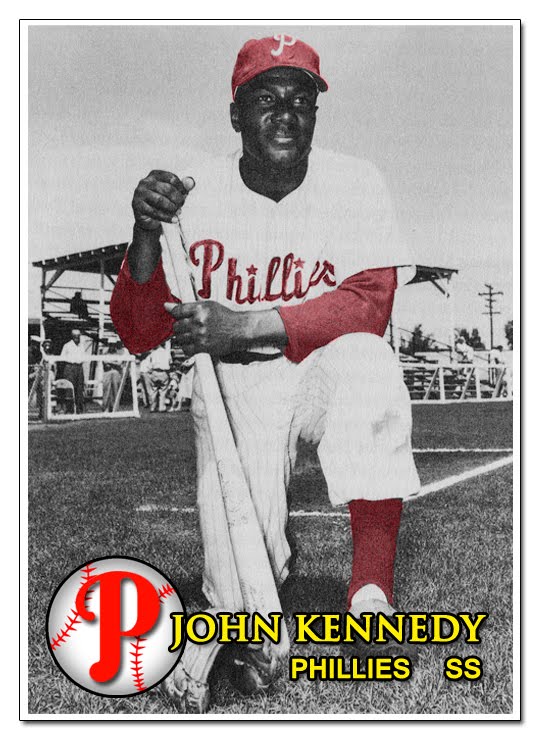 On this day in 1957 John Kennedy becomes the first African American to play for the Phillies. Philadelphia was last National League franchise to integrate, waiting exactly 10 years and 7 days after Jackie Robinson first broke the major league color barrier for the Brooklyn Dodgers. Kennedy entered the game (played in Newark, New Jersey) in the top of the 8th inning as a pinch runner for Solly Hemus, who had doubled. Kennedy did not score. The Dodgers won the game 5-1.
Solly Hemus, the man Kennedy replaced, was later the manager of the St. Louis Cardinals who infamously told Bob Gibson and Curt Flood they weren't good enough to make it as Major Leaguers and "should try something else".
A baseball nomad and Negro League veteran, Kennedy was an infielder for the Birmingham Black Barons in 1954 & 1955 where he was a teammate of the famous country music singer, Charley Pride. In 1956, he was with the Kansas City Monarchs and led the team with a .356 average, second-best in the Negro American League.
In 1957, Kennedy makes the the Phillies roster out of spring training, appeared in 5 games in April & May, but only got two major league ABs. When the Carolina League season launched in May, the Phillies sent Kennedy to their minor league (Class B) affiliate High Point, North Carolina, where he played with a 22 year right handed pitcher named Dallas Green.
Kennedy continued to play the game after leaving professional baseball in 1961, participating in an over-30 league in the late 1990s at the age of 70. John Kennedy died in April 27th, 1998 and is buried in his hometown of Jacksonville, Florida.