On this day in 1976… Michael Jack Schmidt, the greatest third baseman in baseball history, blasted four home runs in Chicago to lead the Phillies to an impressive comeback win against the Cubs. The below is an original article from the Society for American Baseball Research (SABR) written by our friend Rich D'Ambrosio.
April 17, 1976: Phillies slugger Mike Schmidt hits four home runs at Wrigley Field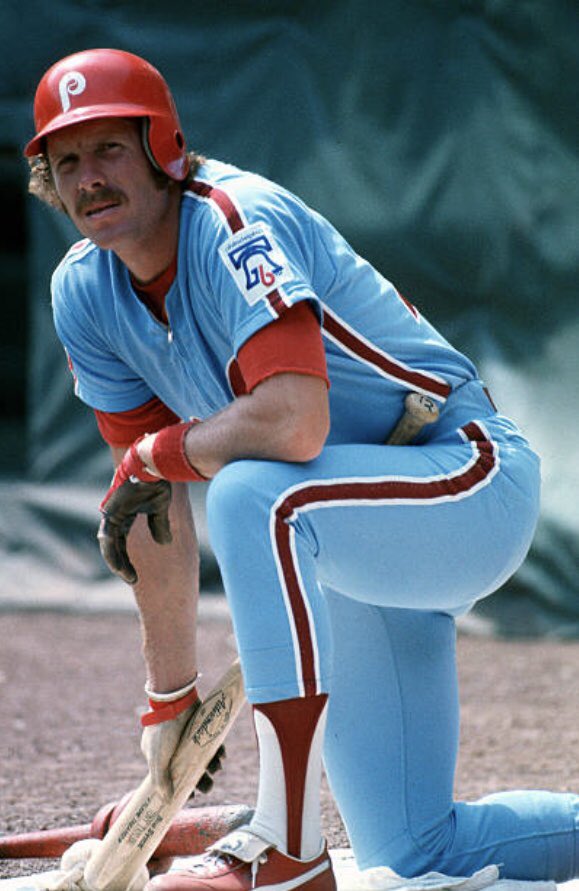 By Rich D'Ambrosio
The Philadelphia Phillies opened a two-game weekend series at Wrigley Field on Saturday, April 17, 1976, in a bit of a slump. Their record four games into the new season was an uninspiring 1-3, putting a damper on the enthusiasm surrounding a team that had been picked by many to win the National League East.
One player in particular had been struggling mightily. Third baseman Mike Schmidt, the two-time defending National League home-run king, entered the game batting a woeful .167 with just one homer, two RBIs, and nine strikeouts in 18 at-bats. His slump prompted manager Danny Ozark to drop Schmidt from third in the batting order to sixth that afternoon. Consequently, Schmidt sought some advice. "I had a long talk with Dick Allen before the game," Schmidt said. "I can't say I was hang-dog or down in the mouth, but he's a good friend and I needed a little boost. He got my mind right."
The veteran slugger told Schmidt, "Mike, you've got to relax. You've got to have some fun. Remember when you were a kid and you'd skip dinner to play ball? You were having fun. Hey, with all that talent you've got, baseball ought to be fun. Enjoy it. Be a kid again."
Schmidt had sustained a finger injury in the Phillies' series at Montreal a few days earlier, so he was having trouble gripping a bat. That afternoon in Chicago, Schmidt borrowed teammate Tony Taylor's bat, which was an inch shorter and an ounce lighter. He also wore reserve infielder Terry Harmon's tee shirt. Taylor joked that it was guaranteed to be "loaded with hits." Clearly, Schmidt was looking for something to get him back on track.
A crowd of 28,287 settled into Wrigley Field on that warm, sun-splashed afternoon. The Phillies sent Steve Carlton to the mound against the Cubs' Rick Reuschel. Carlton was hit hard in his season debut against the Pirates on April 11 and struggled in this outing as well. After being staked to a 1-0 lead courtesy of a Garry Maddox home run in the second inning, Carlton was rocked for seven runs on seven hits in just 1.2 innings pitched. The Cubs continued to hammer a succession of Phillies' relievers and led the game 12-1 after three innings. When Rick Monday ripped his second homer of the game in the fourth inning, the Cubs' lead grew to 13-2. Another Phillies' loss seemed assured.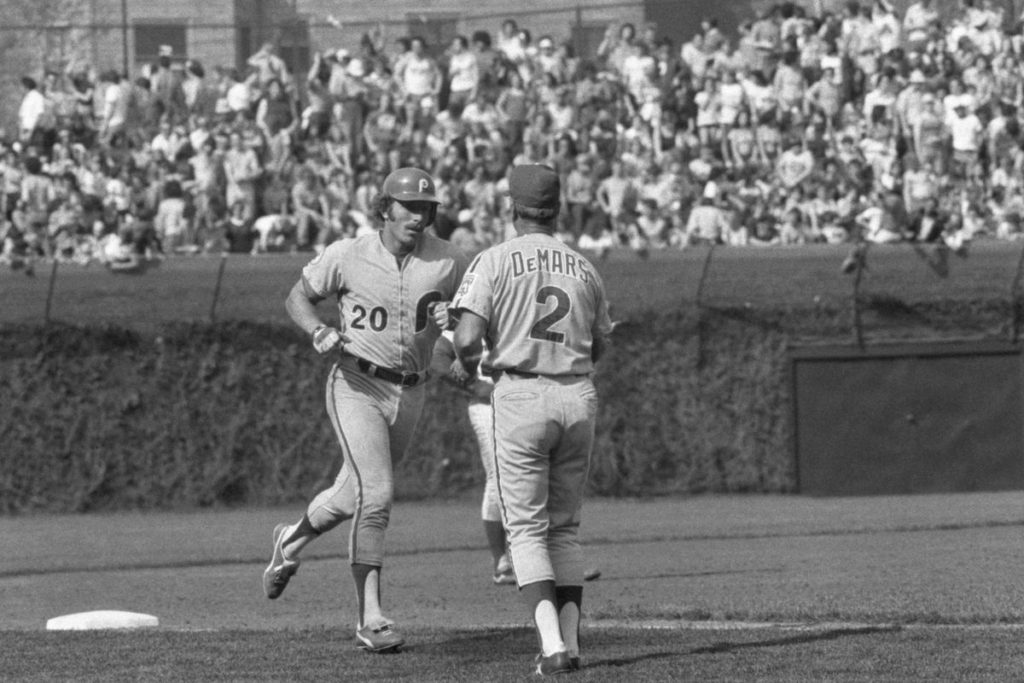 In the top half of the fifth inning, Jay Johnstone and Greg Luzinski knocked consecutive singles, but Allen hit into a double play, sending Johnstone to third. Schmidt came to bat and on a 1-1 curveball hit a long homer off Reuschel that landed on Waveland Avenue to make the score 13-4. The homer didn't seem like much at the time, but the Phillies' bats were coming to life. Good relief pitching by Ron Reed and Wayne Twitchell kept the Cubs off the scoreboard and helped the Phillies make this a competitive game.
Larry Bowa led off the Phillies' half of the seventh inning with a single to left and scored on Johnstone's triple. Luzinski then hit a sacrifice fly to score Johnstone. One out later, Schmidt hit his second homer of the day off Reuschel to make the score 13-7. In the Phillies eighth, Mike Garman came on in relief for the Cubs. Bobby Tolan, pinch hitting for Twitchell, greeted him with a single.
Dave Cash followed with another single, and Bowa walked to load the bases. With two outs, Allen singled to center to drive in Tolan and Cash. Then Schmidt came to bat and hit a ball up in the wind to right field for his third homer of the day, a three-run blast to get the Phillies to within one run, 13-12.
The Phillies went ahead in the ninth inning 15-13, courtesy of a Bob Boone homer and a triple by Bowa. Tug McGraw, though, couldn't hold the lead and surrendered a game-tying single by Cubs catcher Steve Swisher. In the 10th, Darold Knowles issued a lead-off walk to Allen. Paul Reuschel, Rick's older brother, replaced Knowles as Schmidt came to the plate once again. Schmidt drilled a Reuschel fastball into the left-center-field bleachers for his fourth consecutive homer of the day, a two-run blast that put the Phillies ahead 17-15. In a rare display of emotion, the normally cool Schmidt actually smiled as he crossed the plate.
Schmidt became the 10th player in major-league history to hit four homers in a game (and the first since Willie Mays in 1961), and just the fourth player to hit four consecutive homers in as many at-bats, joining Bobby Lowe (1894), Lou Gehrig (1932), and Rocky Colavito (1959). His eight RBIs in the game tied a Phillies' club record. Philadelphia added another run that inning to make the score 18-15, but Tommy Underwood allowed an RBI double by Bill Madlock in the bottom of the tenth to keep the Cubs' hopes alive. Jim Lonborg came in to record the final out and seal the 18-16 Phillies' victory.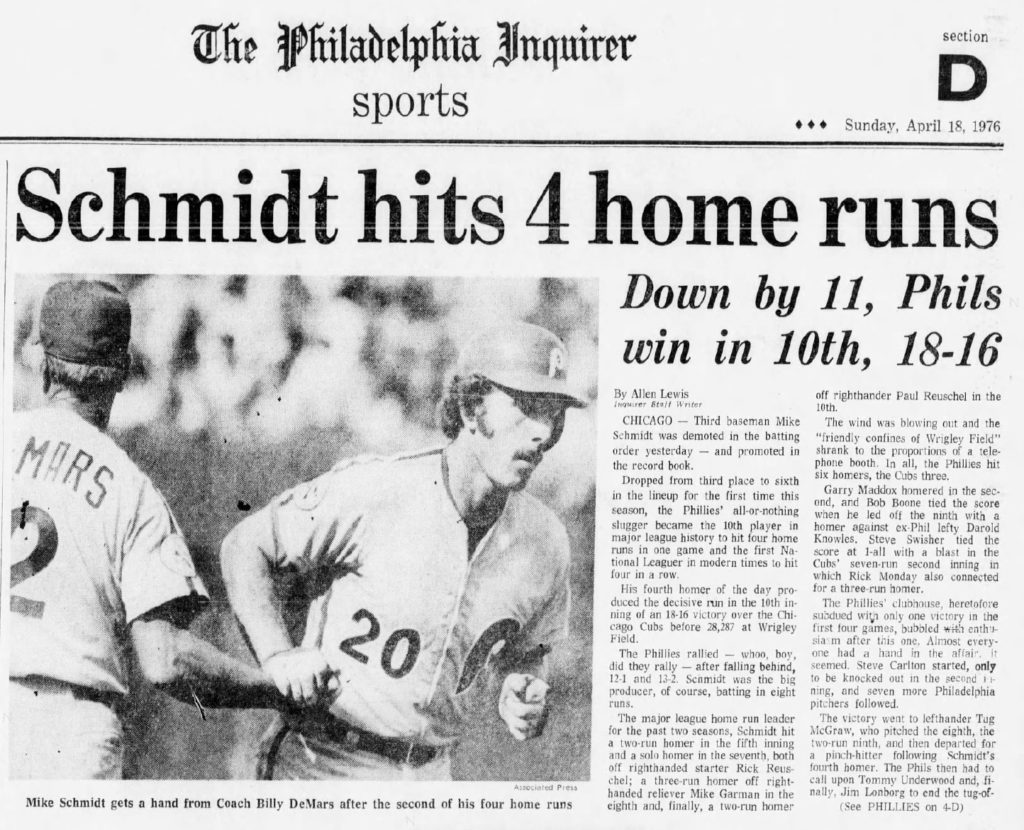 Schmidt finished the day with five hits in six at-bats and raised his average from .167 to .333. After the game, he shared his thoughts about his approach at the plate: "I wasn't thinking anything special when I went up there," he said. "I was feeling good and nice and relaxed. I don't think moving down to sixth (in the order) meant anything." As for being dropped to the sixth position in the batting order, he added, "I don't care where I hit…third…sixth…ninth. There'll be people on base to drive in."
When asked about his pre-game sit-down with Allen, Schmidt said, "I needed somebody to talk to and Allen is the perfect guy. He's been around a long time and he knows what to say and how to say it. I go to him a lot and so do some of the other players. In fact, I think more of us ought to do it."
The fact that the Phillies were down 11 runs in the third inning may have affected Schmidt's approach that afternoon. When asked if he thought the Phillies had a chance to come back, he said, "Really, deep down, you don't think so. But maybe the lack of pressure helped. You just go up there and work on your swing. I need a game like this to take off some of the pressure."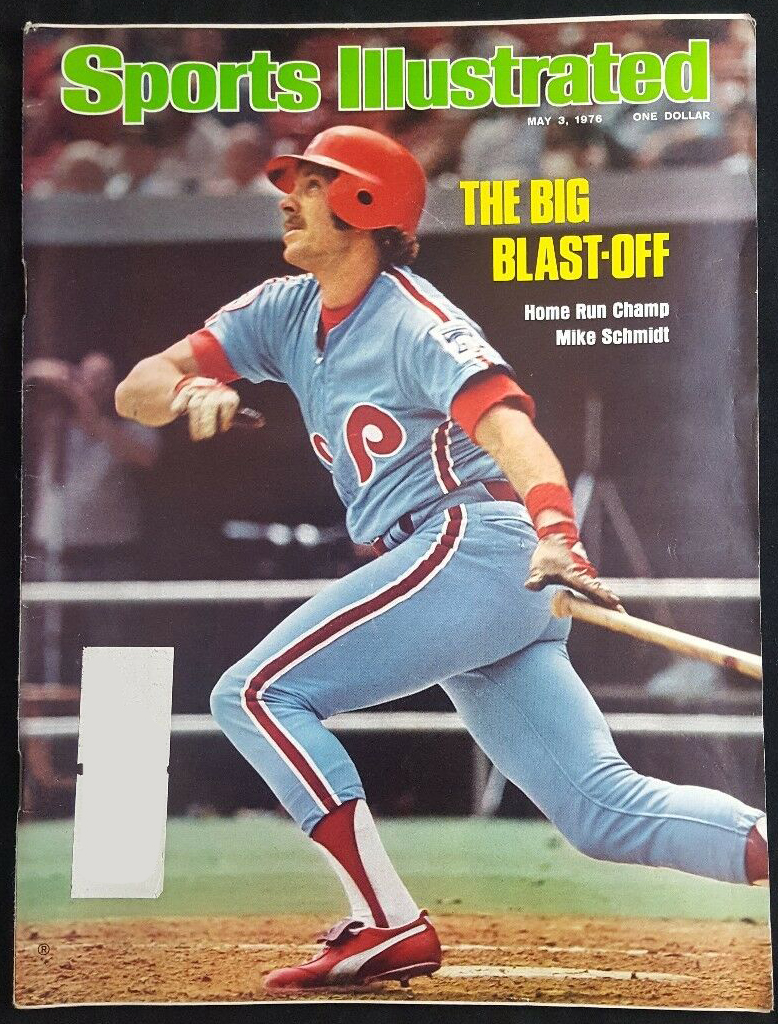 This game, one of the most memorable in Phillies' history, had a favorable effect on the team in general and Schmidt in particular. The young slugger went on to homer in six of the next eight games and finished April with 11 home runs, tying the record for round-trippers in the month (Willie Stargell in 1971 and Graig Nettles in 1974), and was featured on the cover of the May 3 issue of Sports Illustrated. By the end of May, Schmidt was hitting a robust .307 and in a tight race with the Mets' Dave Kingman for the National League lead in homers. Schmidt was named to the All-Star team and finished with 38 homers, good enough to win the NL home-run crown for the third straight season. One can argue that the 1976 season elevated Schmidt to superstar status and paved the way for his Hall of Fame career.
Inspired by the great comeback in Chicago, the Phillies went on an incredible roll. Bill Conlin of the Philadelphia Daily News nicknamed the team "The Blitz Kids." The Phillies moved into first place in early May after winning 10 out of 11 games and never relinquished the lead. From April 17 to August 26, the Phillies' record was an amazing 81-39. By August 26, the Phils had built a commanding 15-game lead over the Pittsburgh Pirates.
A serious slump from late August to mid-September, combined with the Pirates playing their best baseball of the season, cut the Philadelphia lead to a mere three games by September 17. However, the Phillies rebounded and clinched the NL East title at Montreal's Jarry Park on September 26. Philadelphia fans were witnessing their team's Golden Era, which would culminate in a World Series championship in 1980.