OTD: One Million Tootsie Rolls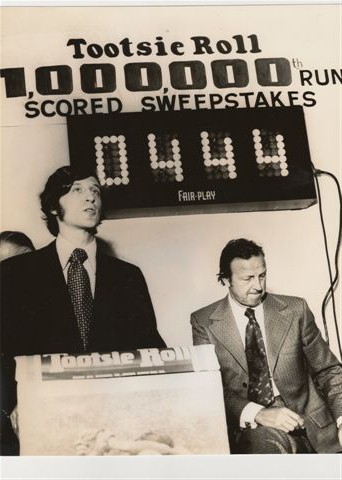 On this day in 1975… Bob Watson of the Houston Astros races around the bases on Milt May's home run and crosses the plate at Candlestick Park in time to score the one millionth run in major league history, seconds ahead of Dave Concepción of the Cincinnati Reds, playing in a different game in another city, to earn the distinction.
For his efforts Bob was awarded 1,000,000 Tootise Rolls.
Asked about the historic run by reporters after the game, Watson said: "I played such a small part in this great game — I'm just glad I could do my part." Concepcion, on the other hand, was bummed: "It broke my heart. Maybe my grandchildren will get the 2 millionth run."
Bob gave his tootsie roll haul to the Girls Scouts and Boy Scouts. He did not want his 4-year-old son and 2-year-old daughter to have that much candy. But the watch, solid platinum, is still a prized souvenir of his terrific 19-year career.